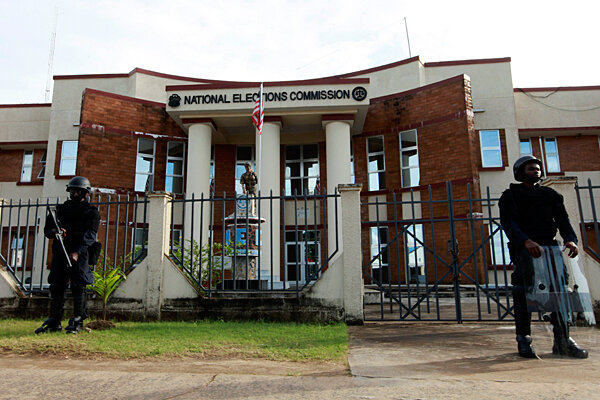 It appears NEC Chairman Jerome Korkoya must have lied under oath during confirmation hearings before the Legislature. Under the law only a Liberian citizen can occupy the post of Chairman of NEC not a foreigner. Note that the laws of Liberia do not support dual citizenship or make no provision whatsoever for dual citizenship neither does the law recognize dual citizenship.
NEC Chairman Jerome Korkoya holds U.S. citizenship and cannot therefore and is not legally competent to preside over the 2017 elections. Chairman Korkoya's U.S. passport bears the name Jerome George Korkoya, born in Liberia on December 24, 1961. the passport number is 40707800 and it was issued on 16 March 2010 and its expiration date is 17 March 2020.
I am using this medium to call on Mr. Jerome Korkoya to step down forthwith for the following reasons to wit:
#1. Chairman Korkoya is a U.S. national, a foreigner who is legally incompetent to superintend the 2017 elections.
#2. Chairman Korkoya lied under oath during confirmation hearings before the Liberian Senate thereby committing Perjury, a criminal offence under Liberian law.
#3. Chairman Korkoya's incompetent and reckless handling of the Voters Registration process has undermined public confidence and trust in the electoral process.
#4. Chairman Korkoya by virtue of his foreign nationality has no interest nor stake in the pending elections and his actions so far demonstrate that his intention is to cheat and create confusion and then flee to the safety and protection of the United States as a citizen of that country.
Don't get me wrong- I support dual citizenship and I feel that eventually the Legislature will pass laws to address the issue. However, for now there is no such provision for dual citizenship and therefore we have the obligation to respect the law as it stands.
Chairman Korkoya should do the honorable thing to resign else he shall be compelled to do so through court action. As things stand, trouble hangs in the air, all due to Mr. Korkoya's corrupt and inept handling of our electoral process. We can not afford a return to violence or war and Korkoya's removal should be seen as a step towards restoring calm to a troubled electoral process.
Finally I am attaching a copy of Chairman Korkoya's passport for all to see and judge for themselves. It is my understanding that since the information leaked, some NEC officials have been making frantic contacts with some media institutions to with-hold publication of his passport details.
—-John H. T. Stewart